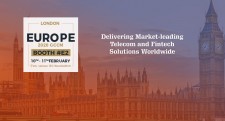 NEW YORK, January 23, 2020 (Newswire.com) - Bankai Group is delighted to attend the 12th annual global carrier community meetings (GCCM) being organized by the global telecom club Carrier Community (CC) in London again this year. The telecom event will take place on February 10 and 11 at the centrally located etc. venues 133 Houndsditch.
The Europe 2020 GCCM will provide a platform to meet and network with industry peers, explore new business opportunities and discuss the latest market trends at the knowledge sharing panel sessions. Bankai Group is looking forward to this opportunity of sharing its expertise about the Information & Communications Technology (ICT) industry with like-minded people.
The company will also be showcasing its latest telecom and FinTech products at booth E2. Their solutions can help operators, carriers, MNOs, MVNOs, enterprise customers and more monetize telecom networks. Their portfolio includes Messaging Solutions, Global Voice Services, Automated Voice Trading Platform, DID & Inbound Service, Value-Added Retail Services, International Calling Cards, Telecom Turnkey Solutions and FinTech solutions.
Bankai Group looks forward to interacting with industry leaders at the Europe 2020 GCCM event. Click here to schedule a meeting with their telecom experts or drop by their booth, no. E2, during the event to know more about their products.
About Bankai Group:
Bankai Group is a globally recognized leader in the ICT and services sector, with interests in the wholesale & retail voice and telecom technology business. For the last 30 years, it has been instrumental in providing the ultimate Voice & SMS Carrier Solutions worldwide with exceptional competence in IP interconnects. Bankai Group helps automate the businesses of telecom operators, carriers and service providers through an automated carrier platform and also offers indigenously developed Digital Financial Solutions, Revenue Management and Network Switching Solutions for Telecom & VAS industries.
Source: Bankai Group
Share: