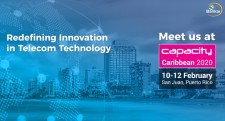 NEW YORK, January 29, 2020 (Newswire.com) - Bankai Group will be attending the Capacity Caribbean 2020, a leading C-level meeting uniting the Caribbean telecom leaders, being organized by Capacity Media. It is slated to be held in San Juan, Puerto Rico from February 10-12.
Their telecom experts will be present at the event to share their expertise on the telecommunications industry and help telecom organizations explore new and profitable opportunities in the voice business. Their aim is to help operators, communication service providers, carriers and aggregators to improve their business bottom lines and enable them to take advantage of low-cost service efficiencies for surviving in the competitive industry.
The Capacity Caribbean 2020 is a community gathering where strategic leaders can debate and have discussions to shape the future of the industry. Over 200 senior-level professionals from more than 90 countries are expected to attend the event. Market leaders from four key infrastructure - terrestrial, submarine cable systems, satellite communication systems, and data centers - will present case studies focusing on effective strategies for each of the verticals at this meet.
Get in touch with us to find out how we can help you effectively monetize telecom networks.
About Bankai Group:
Bankai Group is a globally recognized leader in the ICT and services sector, with interests in the wholesale & retail voice and telecom technology business. For the last 30 years, it has been instrumental in providing the ultimate Voice & SMS Carrier Solutions worldwide with exceptional competence in IP interconnects. Bankai Group helps automate the businesses of telecom operators, carriers and service providers through an automated carrier platform and also offers indigenously developed Digital Financial Solutions, Revenue Management and Network Switching Solutions for Telecom & VAS industries.
Source: Bankai Group
Share: