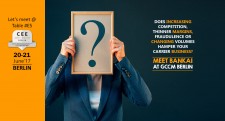 Event
•
updated: Jun 12, 2017
We are delighted to inform you that Bankai Group will be attending the CEE 2017 GCCM - Berlin on 20 & 21 June 2017.
Planning a trip to GCCM, Berlin? Visit Bankai team and learn how you can strategically place yourself as a frontrunner in the global marketplace.​
Reasons to attend CEE 2017 GCCM - Berlin
An exclusive wholesale telecom operator event with only service providers attending
Meet more than 500+ wholesale members representing 250+ regional and international telecom operators.
Competitive entrée rates for 2 days at $490+ VAT per delegate including all leisure activities and networking receptions.
Network in a private, relaxed and exclusive environment.
90% business networking sessions with only two executive panel session during the two days.
Bankai Group is a recognized leader in Information & Communications Technology (ICT) and services sector, with interests in Wholesale as well as Retail Voice and Telecom Technology business. We play an instrumental role in wholesale carrier voice business with exceptional competence in IP interconnects for high-quality international voice termination.
Let's meet to discuss how we can take your voice business to greater heights at CEE 2017 GCCM - Berlin. Schedule a Meeting at https://www.bankaigroup.com/gccm-berlin-2017/
Share: